If you are a fan of the Ducati brand, or you like bright red things, then you are in luck! Adorama has the 4gb Sandisk Extreme Ducati SD Plus USB memory card on special for just $30 after a $30 mail-in rebate. Plus shipping and handling.

Apart from the card, you get the RescuePRO Deluxe Recovery Software CD, and a Key Chain Holder. The card itself is a two-in-one, with a hinger cover that allows it to behave like an SD memory card or a USB drive, depending on what YOU want it to be. It's magic :) Well, not really magic, but it's practical for those who have a need for this.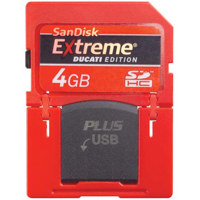 According to the specs you get a lifetime Sandisk warranty and fast 20 MB/second sequential read/write speed.